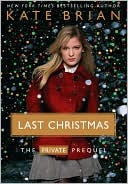 Ariana Osgood has everything an Easten Academy girl could want: straight A's, the perfect boyfriend, and a coveted spot in the exclusive Billings House. But on the first night of Christmas vacation, a blizzard traps her on campus with irresistible bad boy Thomas Person. Alone. Instead of snuggling with her boyfriend next to a cozy fire in Vermont, she's huddling for warmth with Thomas at the Ketlar house.
As the snow transforms Easton into a wonderland, Ariana finds herself falling for Thomas. But someone is watching their destine romance unfold, someone intent on turning their holiday weekend into a nightmare...
Last Christmas revels the secret of what really happened before Private began- and the shocking truth will change everything for fans of Kate Brian's bestselling series.
(from inside cover)
I have always loved the Private series. So, when I heard there would be a Private prequel telling the events of what happened between Ariana and Thomas the Christmas before Read came, I started to have high expectations for this book. Lucky for me they where all meet.
Even with her money and elegance Ariana is screwed up because of her mother, who's always in and out of mental hospitals, and her father who just doesn't care anymore. This being said, In Last Christmas I began to see her as a real person and not the stereotypical perfect girl Kate Brian made her up to be in the Private series. I even felt kind of sorry for her. Though, as Ariana began to get more crazy that sorrow I felt began to drift away.
Another thing I loved about this book was the surprises Kate Brian keep throwing out. I thought I had figured out the mystery several times but each time a new card was dealt that threw my predication right of the track. Also, I loved the new scandals secrets that where introduced. I hope Kate continues on with some of them in the Privilege, her new series about Ariana's life after being arrested for murder.
The only problem that I had with this book was that Kiren and Taylor where missing. I had always thought that they where in the same grade as Noelle and Ariana. I guess they were not living at Billings yet. Or if they where maybe Noelle and Ariana where not friends with them.
In all, reading Last Christmas was like getting an early Christmas present.
5/ 5 stars