I am "stealing" this from The Story Siren. If you want to find out more about it click
here
. Anyway, these are books I got this week at the library, bookstore, and in the mail, of course.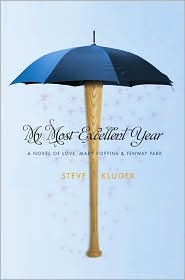 My Most Excellent Year by Steve Kluger
"Dear Anthony:I appreciate your recent interest, but I'm not accepting applications at this time. Your letter will be kept in our files and someone will get back to you if there is an opening. Thank you for thinking of me.
Respectfully,
Alejandra Perez
P.S. It's not "Allie." It's "Ale."
Meet T.C., who is valiantly attempting to get Alejandra to fall in love with him; Alejandra, who is playing hard to get and is busy trying to sashay out from under the responsibilities of being a diplomat's daughter; and T.C.'s brother Augie, who is gay and in love and everyone knows it but him. "
I received this one in my mailbox on Friday from Flamingnet. I can't wait to start this one. I have read and heard great things about it. Also, it seems like it will be funny. Though, I don't really like the cover that much.
Frost Bite: A Vampire Academy Novel by Richelle Mead
Rose Hathaway's got serious guy trouble. Her gorgeous tutor Dimitri has his eye on someone else, her friend Mason has a huge crush on her, and she keeps getting stuck in her best friend Lissa's head while she's making out with her boyfriend, Christian. (So not cool).
Then a massive Strigoi attack puts St. Vladimir's on high alert, and the Academy crawls with Guardians--including the legendary Janine Hathaway...Rose's formidable, long-absent mother. The Strigoi are closing in, and the Academy's not taking any risks. This year, St. Vlad's annual holiday ski trip is mandatory.
But the glittering winter landscape and the posh Idaho resort only provide the illusion of safety. When three students run away to strike back against the deadly Strigoi, Rose must join forces with Christian to rescue them. Only this time, Rose--and her heart--are in more danger than she ever could have imagined...
Shadow Kiss: A Vampire Academy Novel by Richelle Mead
It's springtime at St. Vladimir's Academy, and Rose Hathaway is this close to graduation. Since making her first Strigoi kills, Rose hasn't been feeling quite right. She's having dark thoughts, behaving erratically, and worst of all...might be seeing ghosts. As Rose questions her sanity, new complications arise. Lissa has begun experimenting with her magic once more, their enemy Victor Dashkov might be set free, and Rose's forbidden relationship with Dimitri is starting to heat up again. But when a deadly threat no one saw coming changes their entire world, Rose must put her own life on the line--and choose between the two people she loves most.
I finished
Vampire Academy
the other day (
click here for review
) and as soon as I was done I wanted to know what happened. My library didn't have the next two books. So, on Saturday I ended up going to Target to get them and two movies that where on sale-
Juno
( I love Michael Cera and Ellen Page, so I just had to buy this one. Plus, it was like $6!) and
The Holiday
( one of the best romantic comedies that take place around Christmas. Plus, I love the people who star in it and it was only $4! I couldn't believe it!!)
So, what did you guys get this week?