I am "stealing" this from The Story Siren. If you want to find out more about it click
here
. Anyway, these are books I got this week at the bookstore, library, and in the mail, of course.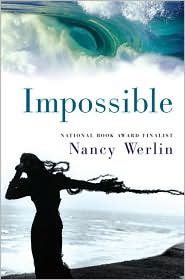 Lucy has nine months to break an ancient curse in order to save both herself and her unborn daughter.
Inspired by the ballad "Scarborough Fair," this riveting novel combines suspense, fantasy, and romance for an intensely page-turning and masterfully original tale.
Lucy is seventeen when she discovers that the women of her family have been cursed through the generations, forced to attempt three seemingly impossible tasks or to fall into madness upon their child's birth. But Lucy is the first girl who won't be alone as she tackles the list. She has her fiercely protective foster parents and her childhood friend Zach beside her. Do they have love and strength enough to overcome an age-old evil?

I got this book the other day at the library, because I loved Nancy Werlin's other book The Rules of Survival and I've heard great things about this book. Plus, the description is intriguing.
The secret of The Rule of Won is simple, yet its power has been suppressed for generations. The universe is one of infinite abundance—ask, and you shall receive.

Umm, yeah right. Meet Caleb Dunne, slacker extraordinaire. Caleb prefers to glide through life with the minimal amount of effort, so he isn't too jazzed when his overachieving girlfriend, Vicky, convinces him to join a new school club based on a controversial book, The Rule of Won. Slackers don't join school clubs, do they? As The Rule gains popularity, though, the club members start to gain power within the school. From dark posts on the club's online message board to all-out threats in the hallways, it becomes apparent that the group is getting out of control. For slacker Caleb, though, the only thing worse than doing something is not doing something.

Stefan Petrucha was nice enough to send me a signed copy of this. I've never heard of him before, but I'm looking forward to reading this.
Only two books this week. Though, I fine with that because of all the books I got last week and both of these books look great.
What did you guys get this week?